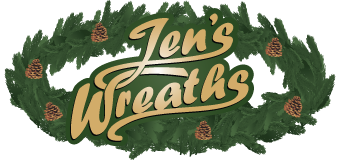 Handcrafted Christmas Wreaths
from the
Northwoods of Minnesota
McFadden Enterprises, LLC.
Jen's Wreaths
33661 State Hwy. 46
Deer River, MN 56636
Call Jen Direct at:
218-246-3146

0 items ($0.00)

If you are looking for a unique and authentic wreath from the true north woods of Minnesota you have come to the right place. All of our exquisitely designed fresh Christmas wreaths are made using the freshest, sustainably harvested, balsam fir available to ensure a crisp evergreen scent. We offer a wide selection of different wreath styles to suit any holiday taste from traditional to contemporary. In addition, we also offer a variety of different sized wreaths, so whether you are looking for a petite small door wreath or a grand large Christmas wreath you will find it here. Have a great holiday season!
Corporate Christmas Wreaths
Help make this holiday season extra special for your employees by preordering your corporate holiday gifts today. By ordering early you can take advantage of our early bird special featuring a holiday discount for orders of 10 or more fresh Christmas wreaths. Please visit our Corporate Gifts Page for more details.
Featured Items: