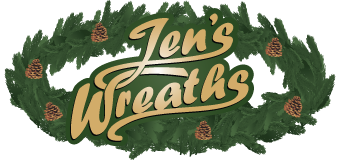 Handcrafted Christmas Wreaths
from the
Northwoods of Minnesota
McFadden Enterprises, LLC.
Jen's Wreaths
33661 State Hwy. 46
Deer River, MN 56636
Call Jen Direct at:
218-246-3146
1-800-246-5128

0 items ($0.00)
The Berry Sweet Collection - Gingham
JW1069
QTY:
Wreath Hanger Option:
Mixed Green Option:

SOLD OUT!

Quantity not available. 50 in stock.
FREE Shipping & Handling
Product Features

This distinctive design comes complete with a Handmade Gingham Bow, Red Stick Berries, and a Pick of Gold Pine Cones. This is put together with an off-center layout.

Make a statement this year and take a risk! This wreath is one of a kind.

Shipping to the lower 48 states is included in this price. Alaska & Hawaii shipping addresses can take up to 4 weeks for delivery via USPS Parcel Post & incur an $18.00 per item surcharge. Call for USPS Priority Mail rates to AK, HI, & Virgin Islands.

Weight: About 4 Pounds
Diameter: 24" (can vary up to 2")
Qty. 1
Made in Minnesota