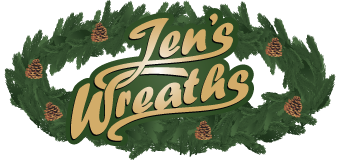 Fresh Christmas Wreaths
Handcrafted at our Farm
FREE Shipping & Gift Cards
Jen's Wreaths
33661 State Hwy. 46
Deer River, MN 56636
Call Jen Direct at:
218-246-3146
How fresh are your wreaths?
We strive to provide you the freshest wreaths possible. If our wreaths need to be stored for short period of time, we use a cool, humidity-controlled room, to prevent drying out. We begin our wreath-making process much later (almost 4 weeks later) than the majority of wreath makers in Minnesota. Despite all our efforts, we want to remind you that even freshly picked balsam fir loses needles. It is normal to find loose needles under your product on a daily basis.
Can I customize or special order wreaths?
We'd be happy to customize a wreath or wreaths exactly to your needs. Need your business card attached to each wreath? No Problem. Want some fresh baby�s breath added? No Problem. Want sprigs of cedar added to each wreath? No Problem. Want a custom bow or ribbon? No problem. In fact 90% of the bows we use are hand-tied by us. We handcraft your wreath's right here in Northern Minnesota. Contact us for pricing details & to discuss exactly what you'd like done.
How much do your wreaths weigh?
Our most popular 24" wreath is handcrafted at a weight of 4 pounds. We use a generous amount of balsam fir to create nice full wreaths; and we avoid the common mistake of over-packing. Over-packing the clamp ring can cause breakage or make the wreath droopy.
What sizes do the wreaths come in?
Wreath sizes refer to the finished diameter of the wreath. For example, a 24" wreath means the wreath is 24" across. Because of the unpredictable nature of balsam fir and the fact that our wreaths are handcrafted, the diameter may vary up to 2" smaller or larger. You can easily trim your wreath if you prefer. We offer wreaths in a variety of sizes as shown in our online store.
Which Payment Methods do you accept?
We accept Visa, Mastercard, Discover, American Express and PayPal in our online store and also via telephone. If you prefer to phone your order in and mail a check or money order we will wait to ship your order until after the check or money order clears.
For Fundraisers: We accept Visa, Mastercard, Discover, American Express and PayPal as well as checks received from school districts, clubs and organizations.
Refund Policy
If you are not satisfied with your Jen's Wreath product you must contact us within 3 days of receiving your order. It is our policy to replace your product by shipping you a new wreath if you are unsatisfied. However, due to the seasonal nature of our products, if a new wreath/s cannot reach your address before Christmas we will simply refund the money for that particular wreath/s. Refunds will only be issued for the wreath/s damaged or defective; you are expected to keep the remainder of your order if there are multiple pieces. We also require that you save the defective wreath/s and all packing components. We will send you a return label and have Fed-Ex or Spee-Dee pick up the package to be returned to Jen�s Wreaths. For more information, please contact us.
What form of delivery is available?
We currently ship all orders via Fed-Ex Ground or Spee-Dee Delivery service in the lower 48 states, and via U.S. Postal Service to addresses in Alaska or Hawaii. Please do not give us a P.O. Box address for addresses in the lower 48 states since Fed-Ex Ground and Spee-Dee Deliver cannot deliver to these addresses. If you live in Alaska or Hawaii, please use your regular mailing address as wreaths will be sent via USPS parcel post.
Can I schedule a delivery date?
If you would like a specific delivery date, please contact us with your order number, and we would be happy to schedule when your order should arrive.
Can I have items shipped to multiple addresses?
We will gladly arrange for delivery of your purchase to any home or business address. When checking out, simply choose "Multiple Addresses" from the shipping options box and enter how you would like us to contact you to retrieve the multiple shipping address details.